MailChimp Scam Steals Cryptocurrency
Dark web hackers have been busy targeting cryptocurrency investors as the price of Bitcoin and Ethereum continue to trend higher on crypto exchanges. Email marketing is now the target of hackers with MailChimp being hacked recently. The email software company disclosed that hackers have hacked into its private databases that host millions of email accounts.
The security breach happens on April 3, 2022, according to the company, which published on Sunday that its team of researchers have discovered that dark web hackers had infiltrated its internal customer support management tools to launch phishing scams.
With the hackers now being able to steal MailChimp's data, cyber security analysts have warned that the threat actors will be busy conducting global phishing attacks on a massive scale.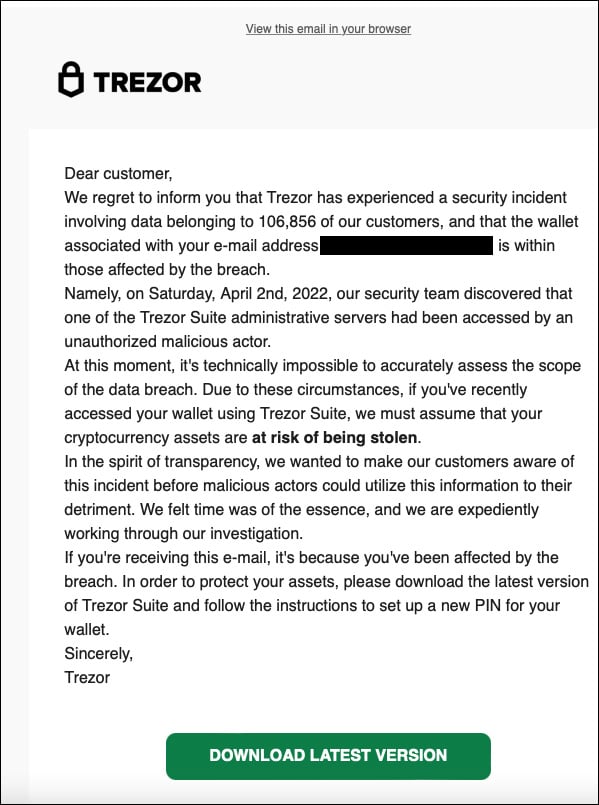 Trezor which hosts millions of cryptocurrency wallets became the trending topic on Twitter with reports that the cryptocurrency platform had been breached by dark web hackers. Thus, the creator of Trezor's cryptocurrency wallets sent our phishing notification warnings about the recent hack attack.
Scam Targets Finance Industry
Reportedly, the emails that were sent by the dark web hackers informed Trezor crypto wallet owners to reset their PINs, with a link to malicious software. Once downloaded, the hackers now have access to utilize their malicious software to steal cryptocurrencies.
The data breach now a hot topic prompted cryptocurrency owners that utilize the platform to reset the PINs to their wallets. Additionally, Trezor was quick to share the MailChimp phishing scam that targets the growing cryptocurrency industry.
BleepingComputer stated that they have reached out to MailChimp which confirmed that other financial institutions were targeted by the dark web hackers. MailChimp had also indicated that the threat actors duped a few of its employees and stole their private credentials to carry out the cyber security breach on its platform.
The incident reported as a social engineering attack was first discovered by the company's security personnel on March 26. As indicated by the security team, they were able to track the malicious hack as the dark web hackers were busy accessing the customer support administration internal support tools.
For now, the threat posed by the hackers has been curtailed with the cyber security analysts acting swiftly to close the accounts that were compromised by the dark web hackers. Also, they have reported that further security measures were administered by the security team that prevents further hacks on additional MailChimp employees.